Vaccine providers in Monterey County
Pharmacies including CVS, Safeway, Lucky's, Walgreens, Costco, and some independent pharmacies
Doctors' offices — check with your primary care doctor or pediatrician
Health clinics — call your local public health clinic
VNA Immunization Clinic (includes free vaccines for those home-bound) — call (831) 648-3777 to make an appointment
Most locations require an appointment via phone or website. If you do not have computer access, you can call the site directly or call 2-1-1 to make an appointment at participating sites.
Other ways to make a COVID-19 vaccine appointment:
Booster vaccines
Who is approved for a booster vaccine?
According to CDC recommendations, some people should get a booster vaccine and others may get a booster vaccine.
Considerations for patients in the "may" category include:
May reduce the risk of COVID-19 infection
May reduce the risk of severe COVID-19 disease and post-COVID symptoms
May reduce transmission to others
Things to consider when deciding on whether to get a booster:
Risk of exposure to COVID-19
Risk for severe infection related to underlying conditions
Potential impact of COVID-19 infection
Use this chart to help determine when to get a COVID-19 vaccine based on age or health conditions.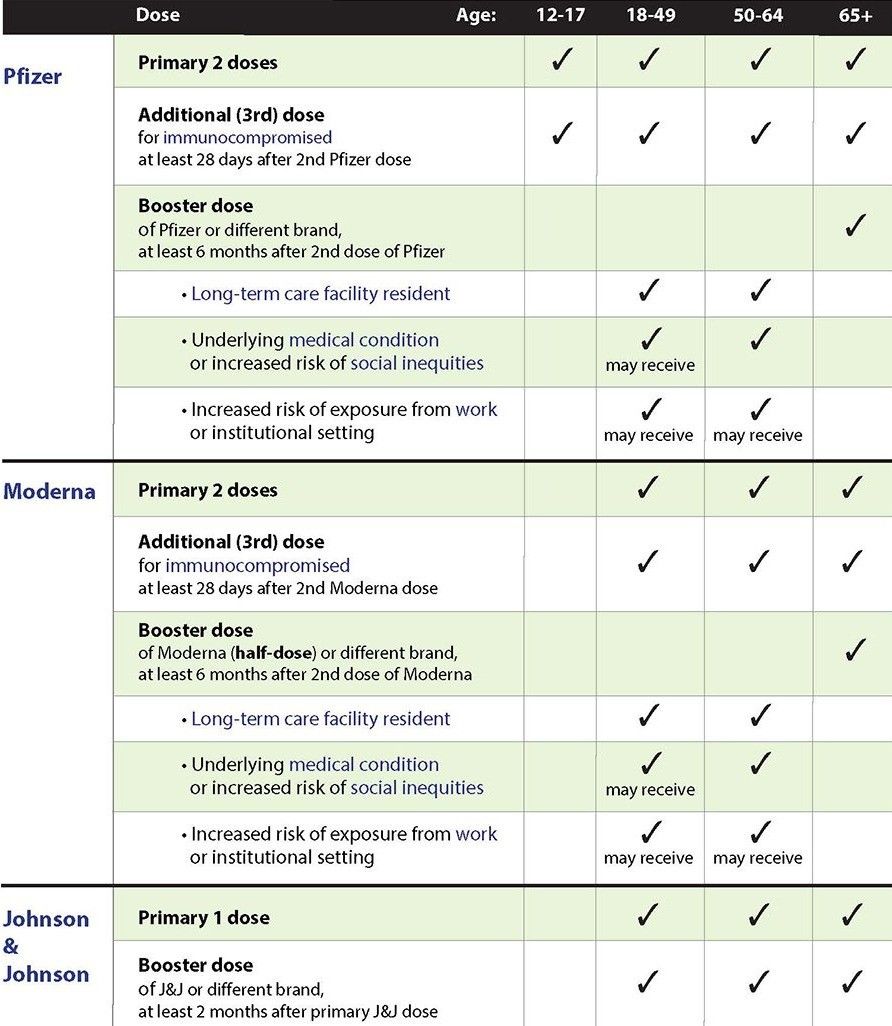 Effective August 16, 2021
PCC'S VISITOR POLICY
Patients will be allowed ONE (1) visitor when here for a MD or NP visit.
Visitors must show proof of vaccination or present a negative Covid test within 72 hours before the visit. (PCR or Antigen)
NO VISITORS will be allowed in the TREATMENT AREA
If you are here for a MD/NP visit followed by treatment, your visitor will need to leave after the clinic appointment
Face masks covering the mouth and nose are still required at all times when in our building
Please continue to practice social distancing in the lobby/hallway areas
Thank you for complying with our policies!
No children under the age of 18 will be allowed in the waiting areas or as a visitor during the MD visit.